Breast Reduction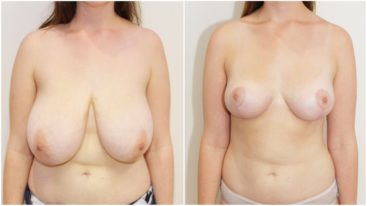 Breast reduction surgery is not just one of simple reduction, but also of reshaping and lift. The aim of breast reduction and combined mastopexy surgery is for the new breast to be smaller, narrower and positioned entirely on the chest wall such that there is no overlapping tissue over the torso or back. The dimensions of the breast are shortened for this to occur with often large volumes of redundant breast tissue and skin removed as part of the procedure.
The prime motivator of women seeking this type of surgery is often not only an improvement breast aesthetics but also an improvement in lifestyle. These women report difficulty with exercise, activities of everyday living, finding appropriately sized bras, maintaining hygiene under the breast and troublesome strap marks.
Dr Miroshnik is experienced in several breast reduction techniques including various pedicles and internal support methods. All involve volume reduction, reshaping, nipple/areola reduction and mastopexy (lift) in the one operation. Incision lines used may include a short vertical, a small 'T' shaped or a larger T-incision depending on the location of excessive breast tissue and the amount of surplus skin. Liposuction to the breast or accessory tissue in the tail of the breast may also be added to further individualise the procedure.
Patient Requirements for those undergoing a Breast Reduction
No smoking or nicotine intake for at least 12 weeks pre- and 12 weeks post- surgery.
No anti-inflammatory tablets eg. Aspirin and Ibuprofen (Nurofen) for at least 10 days prior to surgery.
Healthy BMI ideally <25
Breast Reduction Surgery Recovery Milestones
Minimum 10-14 days off work.